When Elsa Schiaparelli said, "In difficult times, fashion is always outrageous," she may as well have been talking about monsoon fashion. Of the seasons, monsoon can be the most confusing in terms of what to wear and how to wear it, be it apparel, accessories, or make up.

Fashion is all about the choice of what works best at your comfort zone. Here are some things you can keep in mind when you go out shopping for monsoon clothes.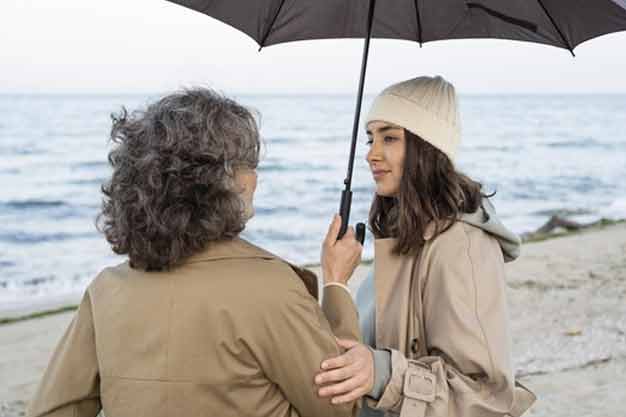 SAY NO TO DENIM
The first step is to learn what to avoid. Denim might be your ever time trending style statement, but not for this monsoon.

Denim is a very thick material which takes a lot of time to dry. Wearing wet denims for a long time can cause skin problems. So avoid wearing denim jackets, shorts, jeans and the like. Instead, give a try to loose fit bottoms such as palazzos, midi skirts, culottes, wide leg trousers and slim pants.
FIND YOUR COMFORT ZONE
If you love walking in the rain, go for short-hemmed outfits which do not hinder your mobility in the rainy showers. The advantage of crop tops, shorts, skorts, and short to medium-length skirts is that they do not tend to get dirty in the rain.

Monsoon calls for a good collection of dresses. These include drawstring dress, midi dress, maxis, shirt dresses, wraps and flounce dresses. If you enjoy street fashion, you might enjoy drawstring dresses which are inspired from street fashion; flounce dresses on the other hand are more feminine pairing maximalist detailing with modest silhouettes.

Shirt dresses with kimono sleeves are a must for your wardrobe. It allows for sporty influences and a deep pointed collar, though the fit can be slightly oversized.

In case you get soaked, tunics such as maxis and wrap dresses are the easiest to dry off. Wrap waist dresses are a more comfortable alternative to maxis, offering a flattering fit with ties at the side as well as on the back. Fabric maxis with fluted sleeves and lace panels are the trend now, so you can give those a try as well.

Midi dresses, which are neither too long nor too short, are pretty good for rains. They can even work when there is a dress code. Mini dresses are also fair enough, with slight kimono sleeves and a self fabric belt.
PICK THE BEST COORDINATES
If you cannot pick a single dress, go for the best coordinate choices. Use a suitable top wear along with your jeans-replacement. Asymmetric kurtis and A-line tops can be worn with palazzos. The A-line silhouette is nostalgic of 1970s fashion.

Long and loose fits stand out this season. Wrap T-shirts and skirts will give the same desired effect of wrap dresses in terms of dryness and comfort. You can go for cardigans with plain tees if you cannot bear the cold. Use slim pants, fit pants or midi skirts for bottom wear.

Crop tops with culottes are a secondary coordinate choice. Culottes are very loose fitted, which can make you feel free as well as comfortable.

Waterproof jackets, hoodies and trench coats are already up in the market to replace the raincoats. Loose flare sleeve hoodies are a good choice to bear with the cold. Unlike the normal hoodies, these are slightly cropped with finishing at the hips. Use it with cotton trousers, midi skirts or culottes.

Embroidered sweatshirts are in this season, which can be worn with culottes or slim pants.
STORE AWAY YOUR TIGHT FITS
Tight fitting clothes will cling to your body when wet. Use loose fitting clothes made of cotton, linen, khadi or synthetic materials, or any other fabrics which are easy to dry. Also use garments which are half sleeved or sleeveless. You may prefer off-shoulders, dungarees or jumpsuits made of linen or cotton as well. Shorter sleeves will give you freshness, preventing water from clinging in your under-arms.
MONOCHROMES ARE YOUR BRIGHT HUES
Bright colours are trending this monsoon season. Bright hues in monochrome can be seen around you, such as cherry, fresh red, blush, teal paired with neutrals like grey, blue and beige. Yellow is the pop-out colour, good for both dresses and accessories.

Avoid white, though the colour is trending, as it is not good for the rains, which could make your clothes dirty as well as transparent when wet.
ACCESSORIZE THE NEED
Minimal and muted accessorization is enough for this monsoon. Avoid tight water-absorbing footwear, which can cause bacterial growth. Nude shades are the top trends with gladiator sandals, open sandals, ballerinas, slip-ons etc. Also crocs, flip-flops, jelly shoes, silicon shoes, pvc boots, gumboots are flooding the market with funky colors.

Avoid wearing metal accessories as it might cause skin problems if you get wet. Chokers and bright scarfs are on trend now, which is a good choice. Never use open bags (like tote bags) as they can be problematic in the rainy season. Use bags with polyester inner linings and closed zippers.

Besides fashion accessories and apparel, monsoons are also the time for umbrellas. Bright coloured umbrellas are in this season. There are some with bright prints on transparent surfaces.
LEAVE YOUR HAIR OPEN, PAIR WITH LIGHT MAKE UP
Try loose hairstyles over tying your hair up. You can go for a pony tail. If you wanna get a haircut, go for short hairstyle as they are the most convenient in the monsoon.

Heavy makeup including layers can cause a lot of discomfort, as the air contains a lot of moisture which can separate your makeup. Go for light make up and make sure to use waterproof products.

Some food for thought this monsoon is to consider sustainable fashion. Companies are starting to adopt recyclable goods into their garments, says Smrithi Manohar, a Junior Executive Designer from Shahi Exports Pvt. Ltd. in Bangalore. "Monsoon fashion is a great idea that should be put into work on a larger scale. The design houses and other industries in fashion are making use of recycled items for creating fashion goods from garments to accessories… hereby helping nature as well as the environment." She adds that there are very few brands working on such ideas. "Others should be encouraged to do so."

Ultimately, monsoon is all about cheers, freshness and fun, so make sure you dress the part as well. Be it in your choice of colours, fabric, or accessories, anything can be a style statement to bring out your aesthetics of monsoon. Moreover, make sure you add a smile while you cheer up for this monsoon!